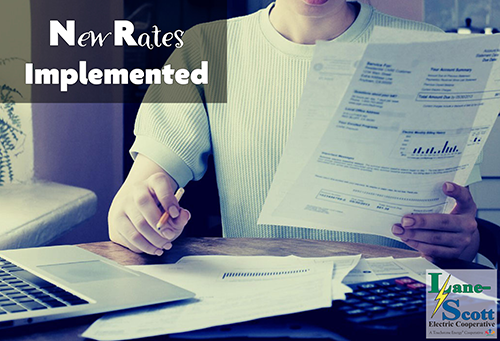 Dear Members,
Our mission is a simple one, we are here to provide safe, excellent service for you, our members. As a non-profit, member owned cooperative we do our best to hold down costs while upholding our mission. While these words are easy to say, it can be difficult to execute this mission, day after day and year after year. This is especially true today as we face rising costs and supply chain challenges that seem to get worse with each passing day.

To keep pace with rising costs and maintain the financial position required to continue to operate an electric cooperative, our leadership voted to adjust our electric rates. We understand the inflation and increased cost of about everything is challenging everyone. This is why we did not take any decisions lightly. We hired Guernsey, an engineering, architecture, and consulting firm to perform a cost-of-service study for Lane-Scott to guide us in making the best informed decisions for our cooperative and members.

Guernsey conducted a deep-dive analysis of our entire financial position as well as each individual rate to see where adjustments needed to be made. The study analyzed our financial situation from 2016-2020. Studies are typically done every three years, and the last study done for Lane-Scott was in January 2016. Obviously, a lot has changed economically and in the electric utility industry since then. The study found an overall rate increase of 6.43% was necessary to operate at a sustainable level. Considering inflation has increased approximately 17% to date since the last study was done, and over 7% through 2020, we felt this overall increase was reasonable.

Not every rate increased 6.43%, some are less, some are more. A rate of return analysis of each rate, along with other factors were considered with each rate class adjustment. The approved rates per class are listed in the comparison chart below, or by clicking the specific rate schedule on the Lane-Scott Rates chart to the right. These rates will be reflective on your April 2022 bill for March energy usage.

Transparency with our members is important to us. If you have any questions, please feel free to call or stop by the office. Frequently asked questions can also be found on our website.

The Kansas Corporation Commission (KCC) has jurisdiction over charges, fees or tariffs. Per KCC Article 66-104d: The KCC shall investigate all rates, tolls, charges and exactions, classifications and schedules of rates of such cooperative if there is filed with the commission, not more than one year after a change in such cooperative's rates, joint rates, tolls, charges and exactions, classifications or schedules of rates, a petition in the case of a retail distribution cooperative signed by not less than 5% of all the cooperative's customers or 3% of the cooperative's customers from any rate class. If, after investigation, the commission finds that such rates, joint, rates, tolls, charges or exactions, classifications or schedules of rates are unjust, unreasonable, unjustly discriminatory, or unduly preferential, the commission shall have the power to fix and order substituted therefor such rates, joint rates, tolls, charges and exactions, classifications or schedules of rates as are just and reasonable. The KCC can be reached by calling 1-800-662-0027.
Rate Adjustment Frequently Asked Q&A's
The last cost of service study and rate adjustments were done in January 2016. Since that time inflation has increased by about 15%. To continue to provide reliable and high-quality service, we must implement an overall 6.5% increase to operate at a sustainable level. The national inflation this past year alone was a little over 13%.
Rates will go into effect beginning with your March 1, 2022 usage, to be seen on the April 2022 bill.
Kansas Electric Cooperative (KEC) conducts an annual study of residential rates. The last study was as of 12/31/2020. Lane-Scott had the third lowest residential rate among Kansas Cooperatives with 16.59% below the average co-op, and 11.1% below the co-op / investor-owned (IOUs) in Kansas.
A third party contractor (Guernsey) analyses the financial forecast of Lane-Scott. The current operating revenue, operating expenses, and interest on long-term debt and other reductions are analyzed. Rates must then be forecasted to cover expenses. To forecast revenue requirements there are many costs to consider.
Operating Expenses: Rates must produce sufficient levels of cash to cover operating expenses and provide sufficient margin to realize financial objectives.
Plant Additions - Equity Objective: Rates must produce sufficient levels of cash to pay for capital expenditures. These cash requirements depend upon the Board's desired equity objective, capital credits refund objectives and current equity level.
Meet Lender Requirements: Rates must produce sufficient levels of cash to maintain key operating ratios as prescribed in the Cooperative's debt covenants.
Maintain Cash General Funds: Rates must produce sufficient levels of cash to maintain or build general funds reserves and maintain liquidity objectives.
Pay Capital Credits: Rates must produce sufficient levels of cash to cover capital credit payments to members based on the Boards desired rotation cycle while also maintaining equity objectives.
After the financial analysis has been completed Guernsey then looks at how each of the rate classes are performing based on each rates revenues, expenses, and rate of return to determine revenue deficiencies per rate.
Based on the nature of each rate, a recommended rate design of the energy charge (kilowatt per hour rate), monthly customer charge, or demand charge (kilowatt charge for services such General Service Large and Large Industrial meters), is provided for the boards final approval.
The costs to make electric service available to all members. These are costs that do not vary with consumption and are the same for all members within a customer class (residential, commercial, irrigation, large power, etc.)
Included Are:
A portion of fixed costs associated with distribution plant investment (poles and wires.)
Costs associated with the equipment and wiring to provide electric service (transformer, service drop and meter.)
Expenses for reading meters, billing, processing payments and consumer accounting.
Expenses for a portion of administrative and general expenses.
No, rates are not affected by the cost of wholesale power. Lane-Scott passes through the cost of wholesale power directly to our members from Sunflower Electric through the monthly Energy Charge Adjustment (ECA).
LSEC offers a number of options to help you manage your bill. Some services include automatic payment withdraw, prepay service, and budget billing to help you manage your finances. Other ways you can reduce your electricity use is by increasing the energy efficiency of your home with insulation, weather stripping, HVAC, appliances, and smart thermostats to help set your thermometer up or down when you aren't home. There are many ways to be more energy efficient. Our website has more information and tools on our Energy Efficiency page.
No, the increased costs Lane-Scott incurred during the winter storm was due to the increased cost of wholesale power that month, which is not included in rates but the ECA.
Many factors can affect rates, most are unplanned and can be tied to storm damage, inflation, and stricter environmental requirements. LSEC will continue to do all in our power to minimize the impacts of any arising issues by being proactive and focusing on maintaining the reliability, quality, and integrity of our system.
Lane-Scott Electric Rates 
Effective on April 1, 2022 Bills for March 2022 usage
| | | |
| --- | --- | --- |
| Schedule | Description | Billing Codes |
| RS-22 | Residential Service | 010, 011, 012, 015 |
| HP-22 | Residential Heat Pump Rider | 016 |
| RPP-22 | Residential Pre-Paid Service | 023 |
| GSS-22 | General Service Small | 040,041,042,045,047,049 |
| GSL-22 | General Service Large | 050,051,052,053,055,059 |
| LI-22 | Large Industrial | 085, 086 |
| IS-22 | Irrigation Service | 030 |
| ND-22 | Non-Domestic Service | 018 |
| ID-22 | Idle Service | 090 |
| AF-22 | Fairgrounds & Athletic Field Lighting | 021 |
| VSL-22 | Village Street Lighting | 060 |
| PSL-22 | Private Area Lighting Services |   |
| NMR-22 | |   |
| PGR-22 | Parallel Generation Rider |   |
| DQF-22 | Qualifying Facilities and Distributed Generation Rider |   |
| ECA-22 | Energy Cost Adjustment | All Rate Schedules |
| PTA-22 | Property Tax Adjustment | All Rate Schedules |