My Power is Out. Now What?
Outages inevitably occur. Western Kansas weather can not only be dangerous, but can cause havoc on our electrical system and ultimately your electricity. Curious animals can cause damage, as can accidents, over grown vegetation, and other uncontrollable circumstances. Our crews work as quickly and safely as possible to restore power.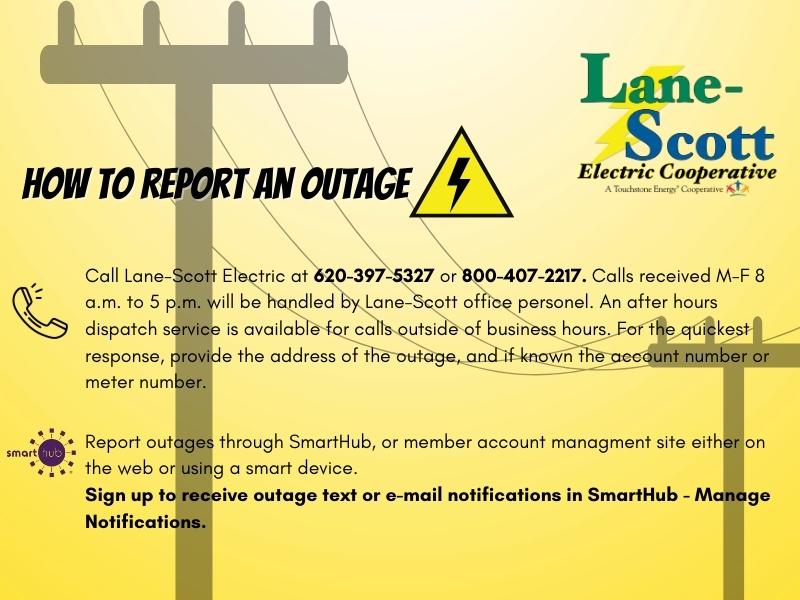 This is by far the most asked question. There are just too many factors to consider, and each outage is different. When the cooperative is dealing with a small, one location outage, outage time could be under an hour. But when a larger area is out, it will take longer due to outage complexity, time and manpower. You might be one of the first restored, or the last, and to give an estimated time would not be accurate due to unexpected situations that arise during widespread outages.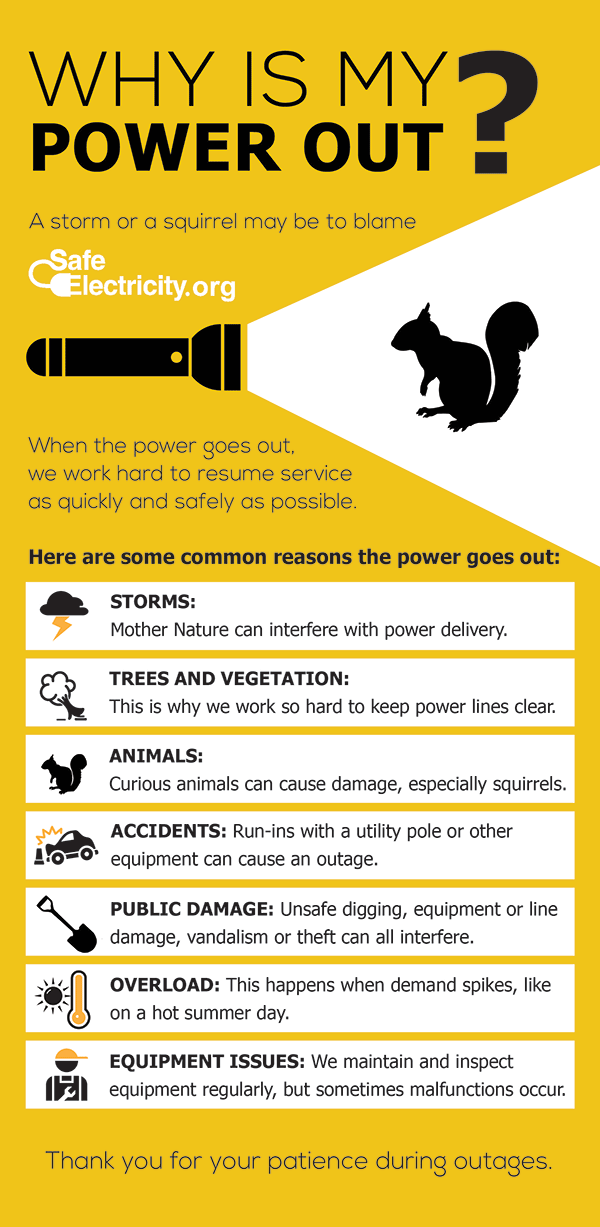 When an after-hours storm hits, our linemen are at their homes, their kids' ball games, out to dinner and basically enjoying evening activities like everyone else. To be prepared, we always have crews on call. Once notified of an outage they still have to "suit up" and drive to the outage location, assess the situation (often patrolling miles of power line to find the cause of the outage). Also, at times they may need to return to the cooperative's warehouse to get additional materials, such as poles and power transformers to make repairs. Sometimes the fix is as easy as resetting a fuse but sometimes it involves replacing a broken pole
Safety is always the first priority. Crews give immediate attention to dangerous situations, such as power lines down on roadways or streets. After that, the substations and primary lines, where the greatest number of members can be restored at once receive attention. Crews then focus on smaller lines to restore power to smaller groups of members. Last, crews work on damage to individual service connections.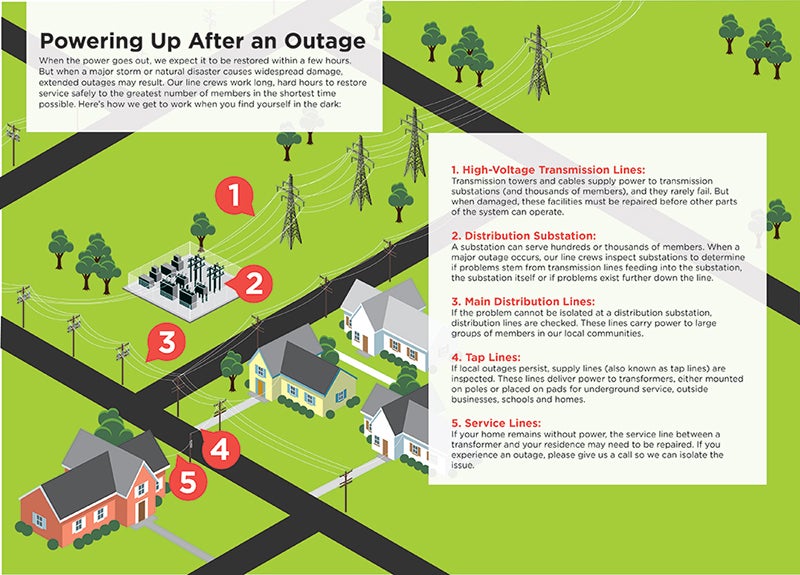 Your lack of power could be due to equipment that is your responsibility to maintain. Lane-Scott Electric maintains the system up to a connect point. For underground service, that is either a transformer, pedestal or underground connection point at a meter socket. For overhead lines, the connect point is usually the weather head mast on your home. You will need to consult an electrician for these repairs
Ever had your lights blink for just a split second or 5 seconds? We call that a power blink - a brief interruption that is designed to prevent an extended power outage. Blinks occur when an object, such as a tree limb, comes into contact with a power line or other equipment. If the limb remains on the line, the breaker opens and tries to close again. If the obstruction is still on the line after the third try, the breaker opens and does not close automatically - requiring a crew dispatch and to report the outage. To prevent damage to the power line equipment or your home, a circuit breaker interrupts the electricity for a fraction of a second. There is no need to report such a blink as an outage. However, if you experience multiple blinks over the course of 24-48 hours, check your in-home breakers for any electrical issues. If no issues are found, call us.
Often following an outage, circuit breakers in your home will need to be reset to restore power, even after Lane-Scott crews have restored power to the electric lines. Here is a video that explains how to check your breakers after an outage, or how to check your circuits if you are having trouble with breakers blowing. 
Frequently Asked Power Outage Questions
First, if the circumstances are safe, check the fuses and circuit breaker inside the home, then the outside breaker.
Check your neighborhood to determine if electricity is out in your area.
Report your outage to Lane-Scott Electric. Do not rely on your neighbors to report your outage.

By Phone: Call 620-397-5327 or 800-407-2217. Provide the representative with the name on the account, the account number or meter number, and the address of the outage.

During widespread outages, you may get a busy signal. It probably means others are out of power and we are working as fast as possible to answer calls and dispatch crews. 

Online or by Smart Phone App: LSEC members have access to SmartHub, our online account management portal. In addition to being an account management and payment tool, the website and mobile app make reporting an outage easy. Login or set up an account to get started.

Login > Select "Report an Issue/Inquire > Power Outage

Outage Text Messages: Sign up to receive outage alerts via text message when your power goes out. You'll also receive text messages when power's been restored. 

You must have a Lane-Scott Electric SmartHub account with a current cell phone number on file in order to participate.
By SmartPhone: Settings > Notifications > Manage Notifications > Service > Power Outage > Edit > Turn On
By Website: Notifications > Manage Notifications > Service > Power Outage > Text Message > Select Phone Number

Facebook: Our page is monitored M-F 8 a.m. to 5 p.m. Often during wide spread outages updates will be posted as to the status of the outage.

Please be patient! Our crews are working as quickly as they can to restore your power. Sometimes the conditions they work in can be dangerous and safety is our priority. They are only allowed to work on restoring power if it's safe to do so.
To avoid overloading your circuit possibly causing another outage, turn off all appliances, including your furnace, air conditioner, water heater, and water pump. Leave on a light to know when power had been restored.
If using a generator, follow safe operating procedures. Never operate one inside your home or enclosed space such as a garage. Click HERE for more information on generators.
STAY AWAY FROM DOWNED POWER LINES, flooded areas, and debris. Treat all fallen wires and anything touching them as though they are energized.
Report Downed Lines to Lane-Scott Electric Immediately
Have Plenty of Food
Keep a 3 to 5 day supply of drinking water. Plan on at least 1 gallon of water per person, per day.
Store a manual can opener with enough nonperishable foods for 3 to 5 days. 
Conserve water by using paper plates and plastic utensils.
Have a camp stove or grill for outdoor cooking. 
Stay in Touch
Have a portable, battery-powered radio and alarm clock.
Have one non-portable phone that will work even if power is interrupted.
Plan where to meet and how to communicate with family members if separated. Write down essential family member contact information.
Keep Things Going
Keep plenty of gas in your car.
Keep extra batteries, matches, propane, charcoal and firewood.
Stay Happy, Healthy and Warm
Coordinate with neighbors for care of the elderly and disabled living alone.
Maintain a supply of prescriptions, nonprescription drugs, vitamins, and special dietary foods.
Pass the time with playing cards, books, drawing and writing supplies, and board games!
Keep sanitary and personal hygiene supplies replenished. Wet cleansing towelettes are useful and help conserve water.
Put first-aid kits in your home and car.
Have plenty of cold weather clothing and warm blankets.
Consider purchasing alternative UL-approved heating devices. For example, a fireplace insert or wood stove will keep the heat in your home instead of up the chimney.
Keep fire extinguishers fully charged
Have plenty of flashlights and other battery operated lights.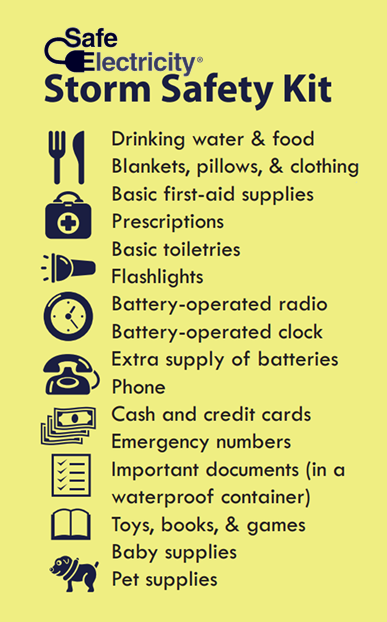 Food:
Keep freezer and refrigerator doors closed. Food will stay frozen for 36 to 48 hours in a fully loaded freezer if you keep the door closed. A half-full freezer will generally keep food frozen for 24 hours.
Pack refrigerated items into a cooler surrounded by ice. 
Never taste food to determine if it's safe to eat. When in doubt, throw it out!
Place thermometers in the refrigerator and freezer.
Alternative Heating Sources:
Carbon Monoxide–The CDC advises the public to never use generators, grills, camp stoves or other gasoline, propane, natural gas or charcoal-burning devices inside a home, basement, garage or camper.
CO is an odorless, colorless gas that can cause sudden illness and death if breathed. When power outages occur during emergencies, people often try to use alternative sources of fuel for heating, cooling and cooking. CO from these sources can build up in the home and poison anyone inside.
Open your blinds during the day, cover windows with drapes at night, and gather in a central room where there is an alternative heat source such as a fireplace or kerosene space heater.
If safe to travel, go to an alternate location for heat.
To deal with cold weather, wrap in warm clothes. Wear several thin layers instead of one or two bulky items. Hats and thermal underwear can also help keep you warm
Medical Devices
If you require life-sustaining medical equipment such as ventilators or breathing machines. We highly recommend having a back-up plan such as a standby generator or knowing where to access one.
If you need assistance during an outage, call your county's emergency management or hospital.
Home Damage
Avoid damage from electrical surges by turning off all appliances, including your furnace, air conditioner, water heater, and water pump. Leave on one lamp to know when power has been restored. That way, you can avoid a circuit overload and another outage that may result when power is restored to all appliances at once.
If the indoor temperature drops to 55°F or below, open your faucets slightly so they constantly drip to prevent pipes from freezing.
Check on Your Neighbors
Outages During Hot Weather
Close drapes and blinds on the sunny side of your house.
Drink plenty of fluids.
Utilize cool basements, or the lowest level of your home since cool air falls.
Go to locations that might have generators such as civic centers, malls, libraries, or even hospitals if necessary.
Dress appropriately, wear lightweight, light-colored clothing.
Drink plenty of water, even if you do not feel thirsty. Your body is trying to cool down and will use up reserves.