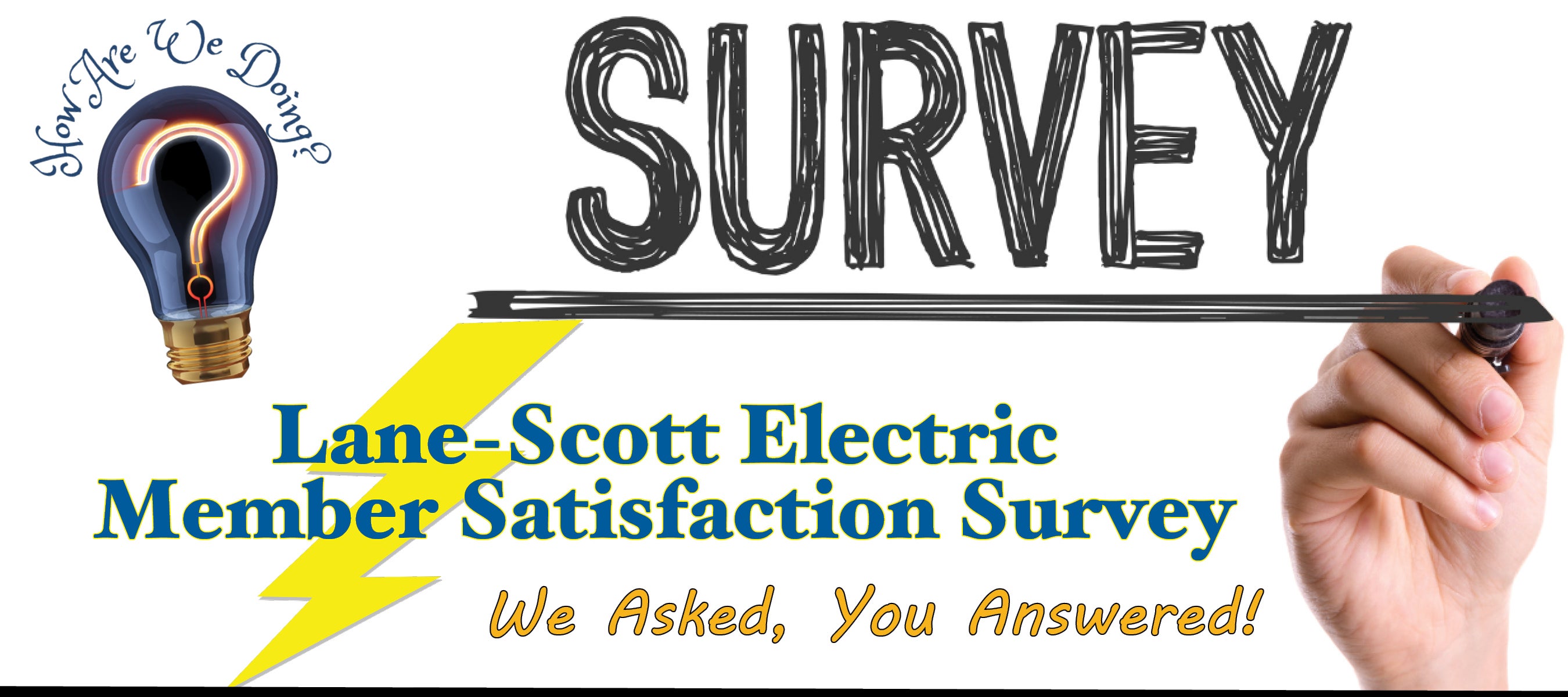 2023 Member Satisfation Survey
Lane-Scott Electric received a Touchstone Energy Top 5 ACSI score amongst all Touchstone Energy cooperatives in Q2 2023!
Lane-Scott recently conducted a member survey to gauge if we are meeting member needs and how we can better serve you, our members. As a member-owned and led co-op, we always try to improve transparency, which is we are sharing how your peers rated the co-op on satisfaction, service, reliability, rates, member service, co-op culture, feedback on communication preferences, and interest in energy trends such as behind the meter generation and electric vehicles.
Survey Overview
Part of Lane-Scott Electric's Strategic Plan is to survey our members every few years to analyze what is or is not working, and form a benchmark of our performance over time.
We surveyed 251 members in our service territory, which includes:
 Ness county, rural eastern Scott county (including Scott Lake Park), all of Lane county (except for Dighton which is now served by KMEA), part of northern Hodgeman county, western Rush county (including McCracken), southern Gove county, northern Finney county, and a small portion of southern Logan co.
Of the 251 completed surveys, 162 responded online and 89 by phone. The survey was conducted by our 3rd party contractor to ensure impartial results.
Scoring Satisfaction
American Customer Satisfaction Index (ACSI)
The national benchmark used by all companies and cooperatives asks 4 main satisfaction questions. Here are the results for Lane-Scott Electric based on a 100% scale.


How Do We Compare?
Lane-Scott is a Touchstone Energy cooperative, meaning we are a member of a national network of more than 700 electric cooperatives across 46 states. Lane-Scott's 89 ACSI score received a Top 5 Score among all Touchstone Energy cooperatives in Q2 2023!

The average National ACSI score as of the end of Q2 2023 was 74.1, LSEC received an 89, and the highest score issued was a 93.

Touchstone Energy cooperatives who surveyed their members in 2022 received an average ACSI score of 84.9.

Known national brands and their scores: Apple = 83, Southwest Airlines = 80, Lowe's = 78, Wal-Mart = 73, National co-op average = 73, Municipal utility average = 72, Facebook = 63
Performance Questions:
Restores service quickly after an outage:                                                92

Provides reliable electric service:                                                              92

Has a goal to provide electricity at the lowest possible rate:              77

Has knowledgeable/competent employees:                                          97

Has friendly/courteous employees:                                                         97

Makes it easy to do business with co-op:                                                95

Committed to local communities:                                                             93

Is transparent about what is going on at LSEC:                                       90

Supports renewable energy:                                                                      75
Comparing trends from 2020 to 2023:  Our overall satisfaction rating of 9.2 and co-op culture score of 8.9 remained the same. Our electric service & rates increased from 8.9 to 9.0, and member service increased from 9.1 to 9.5! 
Regarding these performance trends, Richard McLeon, General Manager, said, "I am not at all surprised to see these high-performance scores. Lane-Scott has a very professional and talented group of employees and board of trustees who lead the way. We strive every day to provide great service to every single member on our line."
Communication Takeaways
46% of members surveyed prefer to receive co-op information by e-mail.

63% prefer to be contacted by text for power outages.
Did you know?!  Our e-mail and text database is setup through SmartHub, our member web and mobile account management system! You must have a LSEC SmartHub account in order to receive e-mail or text messages from us. To learn more about SmartHub and how to sign-up, go to: www.lanescott.coop/smarthub.
Member Responses on Renewable Energy
37% believe electricity generated by wind is reliable.

51% believe electricity generated by solar is reliable.

Regarding behind the meter generation, 13% are considering installing equipment which includes wind, solar, generators, or other sources.

Of the 13% considering installing behind the meter generation, 67% were interested in solar, 58% in a generator.

Regarding electric vehicles, 96% have no plans to purchase an EV, while 4% said sometime in the future.
We want to address concerns brought up by members during the survey on a public platform. More than likely, if one member has a concern, others have the same concerns. See our responses to questions below in the FAQ section. As always, please contact us with any questions you may have during normal business hours. We are happy to help!
Thank you for all who participated in this year's Lane-Scott Electric Member Satisfaction.