full width paragraph
Overhead Line Clearance  Lane-Scott Electric is here to help you with line clearance issues. Call us if there are lines too low to safely clear with large equipment. Remember there needs to be at least 10 feet of clearance above the equipment.
Farming is one of the most dangerous jobs in America. Sometimes on the farm, equipment that is normally helpful becomes lethal during an accident. Electricity is essential to the modern farmer, but can be deadly.
Safety precautions need to be taken when operating large equipment near power lines. Here are a few safety tips to keep in mind while operating large farm equipment: 
Always lower a portable grain auger before you move it, even if only a few feet.
Keep all objects at least 10 feet away from overhead lines. Know where all overhead power lines are located on your property and inform all workers about them.
Plan your route between fields, to bins and elevators, and on public roads so that you avoid low-hanging power lines. If someone else transports large equipment, always specify a safe route and explain why certain routes must be taken.
Be sure you and everyone else in your operation know what to do in an emergency.
If equipment gets hung up on a power line, the operator should NOT get off the machinery unless in immediate danger. If the operator touches the ground and the equipment at the same time, he or she will become a channel for electricity.
If you must leave the equipment, jump as far away from the machinery as possible. Never get back on machinery that touches a power line until the utility company disconnects the line.
Investigate the possibility of burying power lines in heavily used areas on the farm, such as around grain bins.
Electric lines sag as years go by. Do not try to move a power line out of the way. Contact your utility to fix the line, so you can operate farm equipment with enough clearance.
Use a spotter. It can be difficult to tell where you are in relation to overhead lines. A spotter can help you stay far away from power lines.
Be sure to share this important safety information with all farm workers and family members.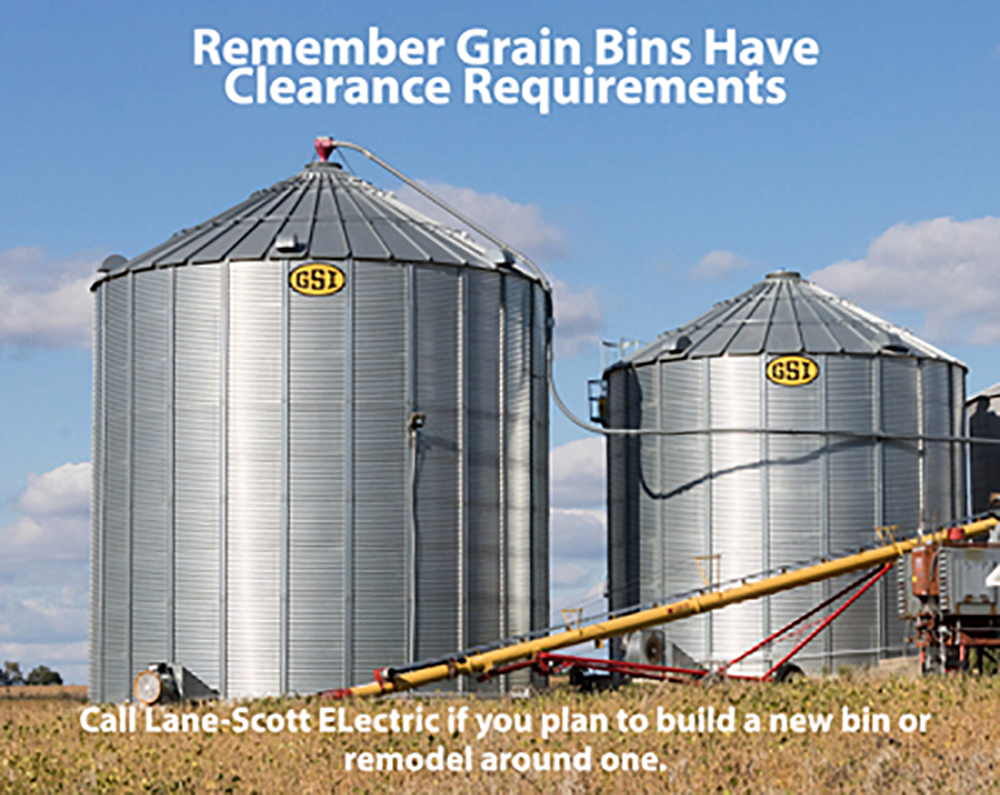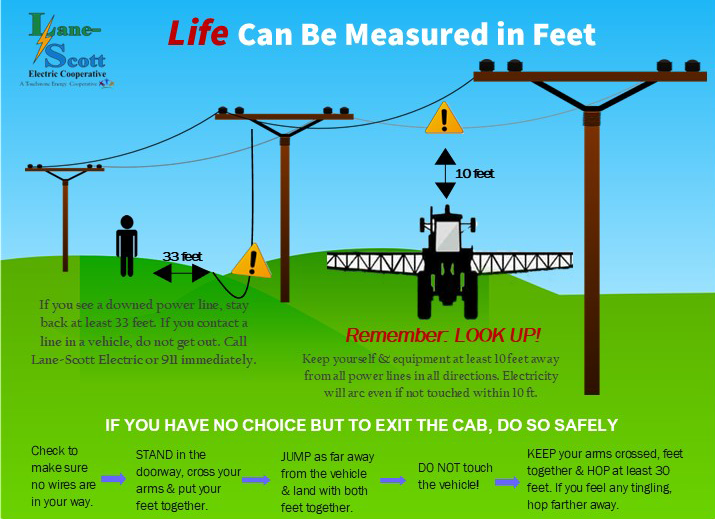 Remember Grain Bins Have Clearance Requirements
The National Electrical Safety Code (NESC) addresses grain bins and their proximity to power lines with very specific requirements. The code does so to decrease the chances of farming equipment and machinery coming in contact with a live electrical line.
If you plan to build a new grain bin or remodel around an area that already has one, we can help with specific code requirements. The taller a grain bin, the farther it must be placed from a power line. Placing a grain bin too close to a power line is extremely dangerous, and will most likely need to be relocated due to one or more code violations—usually at the owner's expense.
The NESC specifies both horizontal and vertical distance requirements so don't leave a bin's location to chance. For example, a 30-foot high grain bin must be at least 93 feet from a power line, and all bins must have an 18-foot minimum vertical clearance from the highest point of the bin's filling port. There are also distance requirements for non-loading sides of bins. In addition, changes to the ground (landscaping, filling) and drainage work can affect clearance heights.
Remember, calling us before installing a new grain bin or making changes around an existing one is free. Moving one is costly, it interrupts your farming schedule and is more than just a hassle.
Even if you are not getting a new grain bin or making changes around an existing one, remember to always maintain adequate clearance when using a portable auger, conveyor or elevator to fill your grain bin or when moving machinery or farming equipment anywhere on your farm.