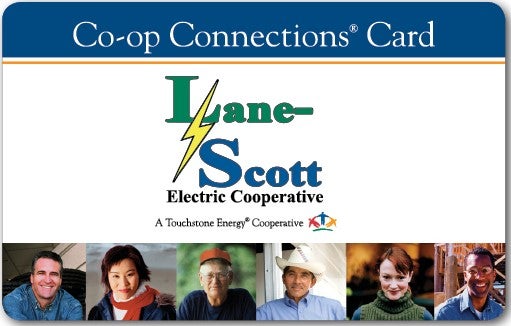 The Co-op Connections Card offers co-op members and employees product and service discounts at participating retail businesses. In turn, participating local businesses benefit from increased customer traffic, promotions in co-op communications and advertising material.
Access connections.coop, a national website with a roster of participating businesses which includes local as well as national corporations such as rental car companies, hotels, retailers, and more!
Shop & Save
Locally...
With this one little discount card, you can save thousands with participating local businesses nationwide. There are three ways to access these local business savings.
1. Simply show your card at local participating businesses, pharmacies, or health services in our Lane-Scott service area or in other community businesses who participate in Co-op Connections.
2. Print Coupons: After creating an account at www.connections.coop, you can see the list of businesses and discounts available. You will have the option to either print the coupon or show them the coupon on your smart phone app. 
3. Download the Connections.coop app on your smart phone. From there you can access the same information as you see online. TIP: When traveling, make sure and check the app to find discounts in that area. This is a nationwide program!
Nationally...
1. Create your account at www.connections.coop
2. Search through the National Discounts, Travel, and Ticket pages to find the many retail discounts.
3. Each discount will give specific instructions on how to redeem each offer.
Cash Back Mall
Shop online at the Cash Back Mall at www.connections.coop to receive cash back on online purchases! You can earn anywhere from 1-6% cash back at various national retail stores such as Bed Bath & Beyond, Expedia, Overstock, Ace Hardware,Sams Club,and hundreds more.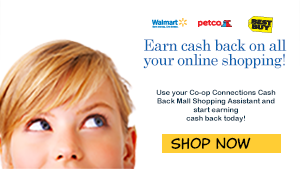 Healthy Savings
The Healthy Savings feature has pharmacy, dental, vision, chiropractic, hearing aid, diabetic supplies, lab testing, and MRI & CT Scan discounts at participating national & local companies. 
This is NOT an Insurance Card
After creating your online account, navigate to Healthy Savings . From here you can see the discounts, locate providers, and compare RX prescription drug prices.