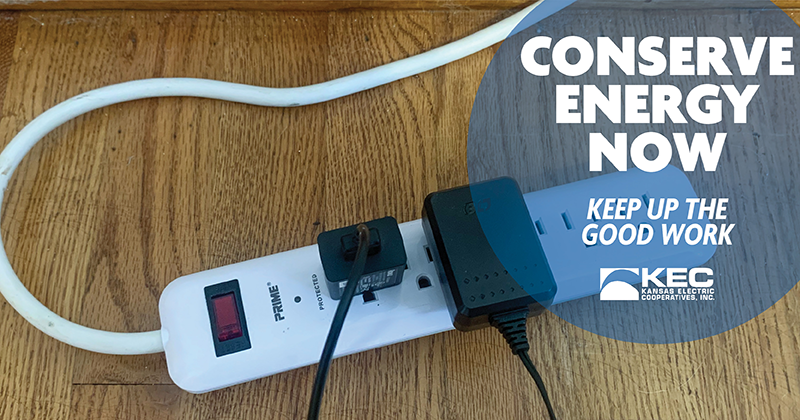 How to Conserve Energy for a Conservation Plea
Often when a conservation energy plea is issued by your cooperative, it is because weather conditions are causing intense strain on the electrical grid, there has been an emergency of some sort, or fuel shortages. The cooperative will issues a plea to its membership when they have been instructed to do so by the Southwest Power Pool, who is the energy balancing authority for a 14-state area. When energy demands exceed generation capacity and conditions exist that could lead the SPP to utilize operating reserves, SPP will issue a public appeal for conservation. The goal of this action is to reduce overall system load and keep it below region-wide total generating capacity. 
If the situation would continue to become energy deficit, load shed of electricity from the grid will be mandated. The electric utilities do not have control over when the load sheds will take place, or to whom will be shed. This is why conservation pleas must be taken seriously! We DO NOT WANT TO HAVE TO SHED LOAD! Here are some helpful ways you can conserve energy when it's hot outside.
Set your thermostat as high as comfortable or turn off your Air Conditioning. Set your thermostat to 78 degrees or higher, if health permits.

Reduce the temperature on your water heater. Set the temperature on your water heater to 120 degrees Fahrenheit or put it on the "warm" setting. If your home will be vacant for two days or more, set the dial to the pilot position for even more savings. 
Reduce ghost electricity. Ghost electricity is electricity that is being used just from being plugged in. Unplug coffee makers, appliances (that don't need cooled or heated constantly), and cell phone chargers. You can use power strips for multiple appliances, and turn off the main switch to shut off large electricity users such as entertainment centers or video consoles. Don't forget about what's plugged-in in your shop or garage!
Close blinds and curtains. This helps keep warm air inside, especially if the sun is not shinning.
Change or clean air filters. A clean air filter on your furnace can lower your energy consumption by 5 to 15%. Dirty filters cost more to use and overwork the system.
Avoid using major appliances. Electric appliances use a large amount of electricity. Avoid using them, or use them during off-peak hours. Off-peak hours in the summer are in the cooler parts of the day and