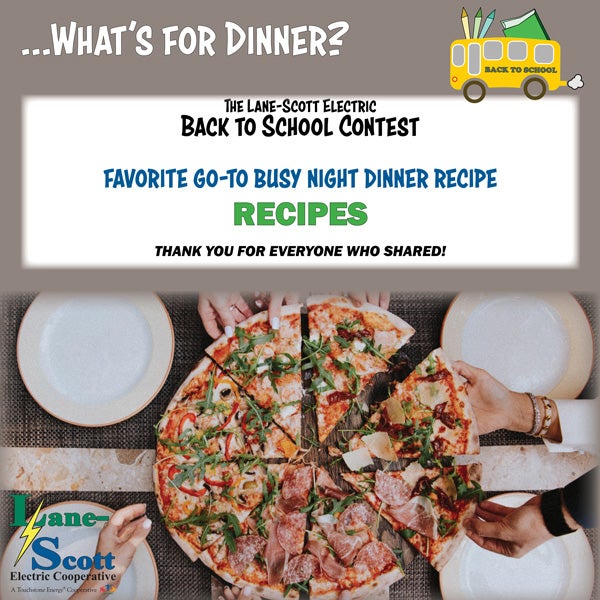 We asked for you to share your favorite busy night go-to dinners for our Back to School Contest. These are the suggestions that were shared!
Thank you for participating and have a great school year!
2.Frozen Burritos
3. BLT's
4. Taco Burgers: Prepare 1 lb of hamburger meat with taco seasoning. Serve on hamburger buns topped with shredded cheese, taco sauce, lettuce, or other taco toppings.
5. Frito Chili Pie
6. Chicken Gumbo Soup Sloppy Joes: 
1 lb. lean ground beef
1⁄3 cup catsup
3 tablespoons prepared mustard
3 Tablespoons Worcestershire sauce
1 (10 1/2 ounce) can chicken gumbo soup (undiluted)
4 hamburger buns, toasted

DIRECTIONS
Crumble beef in skillet, brown and grain grease. Add the remaining ingredients.
except for the buns.
Stir well and cook until very hot and heated through.
Spoon meat mixture onto buns and serve
8. Chicken Casserole: Chop potatoes and mix with a can of green beans. Place mixture in a dish, top with chicken breasts, drizzle with butter and sprinkle a packet of dry Italian seasoning on top.
10. Biscuits and Gravy
11. Waffles or Pancakes
13. Fajitas
14. Easy Chicken Alfredo:
Chicken breasts, cooked and chopped to bit size pieces
2 jars alfredo sauce (we like Bertolli)
1 package fettucine noodles
mushrooms, broccoli, garlic, tomatoes or whatever vegetables you like in your alfredo
Boil pasta, saute vegetables in a pan to your liking, heat pasta sauce. Combine and serve!
Don't forget the garlic bread or garlic toast